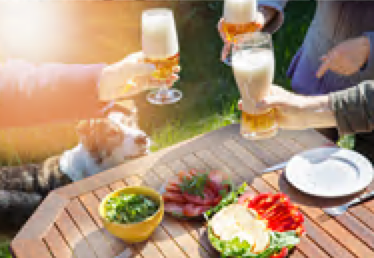 Earlier this month, we showed you some of the top spots to take your pup to breakfast, lunch or dinner. The blog was so popular we decided to stick to a good thing. Below you will find more options to enjoy a summer meal with your entire family and friends by your side.
Whataburger
A fab place for Fido, family and friends, too, Whataburger welcomes everyone to their dog-friendly establishment. See their list of "Signature Burgers' built with tons of topping combinations like the Chorizo Burger or Avocado Bacon Burger. Not into burgers? No problem. Come in with a sweet tooth for their classic Apple Pit or good old-fashioned malt or shake. You can satisfy your sweet tooth with a hot apple pie or a cold shake and malt. A drive-thru window is also available if you don't want to tie your dog up outside while you go in to order.
Gringo
This may be the best spot in El Paso to pass the time with the entire family. Gringo Theory Patio Bar is super pet friendly. The entire staff takes time to welcome your furry friend and offers water bowls to cool them off during our sweltering summer days. Recently they added an enclosed Dog Park to their bar. Think: classic cocktail, local brew, and happy puppies, too!
They also host a variety of some of the best Food Trucks in El Paso.
150 Sunset
Touting "creative food with a healthy twist,' 150 Sunset is yet another dog-friendly establishment in El Paso. While dining in their open patio or side patio with your pub, you can sit back and savor a classic Roasted Chicken entrée, Chicken Artichoke Pasta or our favorite for the big splurge, Beef Tenderloin. Lighter bites are offered on the menu as well with appetizers, salads, soups and daily specials.

Along with their core services, they also also have a unique Gift Shop, offer in house and off-site catering, full wedding and event design and planning services and more.
The Hoppy Monk
For something out of the norm, head to The Hoppy Monk. Boasting "a delicious variety of innovative pub eats and potent potables in a casual tavern style atmosphere," you can feast on mouthwatering options like mac and cheese, tuna tostadas, mushroom melts, rabbit barbacoa tacos, wagyu strip steak, and bacon and egg burgers.
Wash down the goodness with a selection from the impressive lineup of craft brews from across the globe.
Check this out. We found this on their website and thought you'd enjoy reading it as much as we did:
OUR "I DIDN'T REALLY LIKE THAT BEER" POLICY:
We strive to bring to you a beer menu, both on draught and in bottle, which is not your everyday ho-hum selection of every day ho-hum beers. These beers tend to be more expensive and harder to find due to their craft brewed, artisanal nature. We want you to step up and taste real, artisanal beer. However, we will not refund the cost if you simply "don't care for your beer". You can purchase a five-ounce taster glass of almost any artisanal beer.
Where to take your dog off-leash in El Paso?
Stay tuned to next month's feature on the "Best off leash' parks in El Paso!