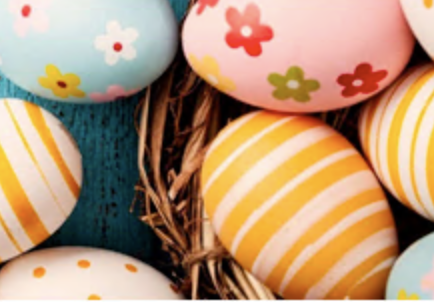 Earlier this month we unraveled the story about the Easter Bunny and Easter Baskets. Now that you have an understanding of some of the holiday's most favorite traditions (especially for kids), we are diving into the delicious options to complete your celebration from sunup to sundown.
If you are thinking about a festive Easter Brunch that is easy to prepare and easy to please, take a look at the recipes that are some of the favorites throughout our apartment community in El Paso, Texas.
Be sure to read through the entire blog, as we have a special treat for kids at the end of this story.
There are so many traditions within our extended family that is was a bit challenging to select our favorites to share with you today. However, we promise each dish to be as delicious as the next!
Favorite Easter Breakfast/Brunch Recipes
Traditional Hot Cross Buns
Eggs Florentine with Hollandaise Sauce
Roasted Mushroom and Bacon Dutch Baby
Perfect Quiche Lorraine
Easter Jokes for Kids to Share with Family & Friends
Within our blogs throughout the year, we like to find ideas to keep the kids away from screen time and into the family festivities. Here's the beginning a full list of family-friendly jokes for kids young and old! For more, click on this link provided by The Pioneer Woman – one of our best resources for food, fun, and so much more!
• What happens when you crack a bad joke at school on Easter?
You get egg-spelled!
• What does one Easter bunny say to another if they want to flirt?
You're ear-resistable.
• Why should you never show Easter eggs a scary movie?
They're all a little chicken!
• Who would lose in a fight: peeps or chocolate bunnies?
Peeps, because they're way too soft.
• Which college did the Easter bunny have at the top of his list?
• John Hop-kins University, their track team is great at the long jump!
And our favorite …
• What happens if you fall in love on Easter?
You live hoppily ever after.
Cheers to all during this very blessed season.