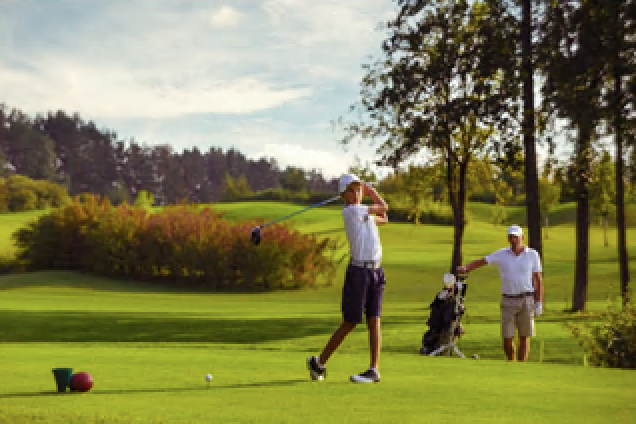 Earlier this month we provided details about some of our favorite golf courses in Austin. As promised, we are continuing our list to help you get out and about on some of the region's finest courses within a short drive from Cantera Apartments in El Paso, Texas.
Butterfield Trail Golf
Owners of one of El Paso's more popular courses promote the Butterfiled Trail Golf course as "A "must-play" for all who seek challenging yet enjoyable
play, Butterfield Trail's natural beauty and unique design will inspire an unforgettable golf experience." And with good reason.
This is one of our favorite courses for many reasons. First, it is loaded with history. Each hole was named after a different stop on the historical Butterfield Overland Mail Company route, which operated for three years in the mid-1850's, carrying mail and passengers from Missouri to San Francisco.
And, they have Membership Packages to keep the game affordable throughout each season. Much like other courses in Texas, Twight time is one of the best times to beat the summer heat!
Coronado Country Club
With its sweeping views of El Paso atop of the foothills of the Franklin Mountains, the setting at Coronado Country Club draws golf enthusiasts from all over the South West and beyond.
This is a private, family-focused club infused with history, superior service, a list of amenties that one would expect from a first-class operation.
Stretching over 125 acres, Coronado offers an 18 hole 'classic mountain design' course which means you will experience plenty of challenges throughout its rolling terrain. In addition to the course, the Club is complete with 'five-star' outdoor and indoor dining experiences, lighted tennis courts, a heated swimming pool with 'private' cabanas, and is a favorite for the kids … with a 15 foot waterslide to entertain them all day long.
Brides and grooms find the Coronado's personal service and pristine setting a perfect spot to tie the knot!
Painted Dunes Golf Courses
Carved out of the Chihuahuan Desert, the three courses at Painted Dunes offer every option within any golf course design in the West. Officially noted as a "Championship" course, its architects Ken Dye and Jeffrey Brauer have received accolades from the industry's most acclaimed media including Golf Digest, the United States Golf Association, Texas Golfer, and the Dallas Morning News who touted the courses as "preeminent golf facilities in Texas and the Southwest."
We will give you a head's up… as noted on their website: "This championship layout rewards those individuals who can manage their golf game around the penalties that lay in wait for the careless golfer."
Horizon Golf Club
Located just 13 miles from the heart of El Paso, Horizon Golf Club (in Horizon City, TX), is yet another fine option to get outside and get into the game of golf. Developed initially at Emerald Springs Golf and Conference Center, and rebranded in 2013, this all-inclusive golf facility provides membership options with access to 18 holes for golf, a driving range, and swimming pool as well.
Before or after your game, we recommend a tasty meal at their Moonlight Bar and Grill!
But wait, there's more!
For those who enjoy the game, there are so many more options to enjoy a round of golf throughout El Paso and beyond. Take some time to click into
GolfPass.com for more options to test your talent on the links throughout the year.