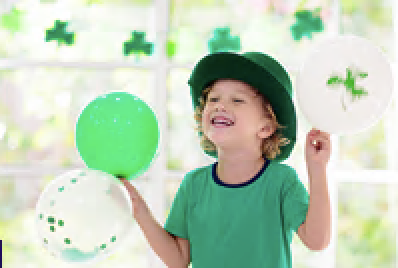 You don't have to be Irish to join in the fun and festive foods that come with celebrating the Luck of the Irish. Our staff at our apartments in El Paso had so much fun researching this subject. The blog this month starts with a complete list of our favorite crafts and recipes to get you in the mood. Or here's another idea, invite the whole community to get involved. The recipes are easy and oh so deliciously traditional (and green!)
Then check in later in the month for a story about St. Patrick's Day that you can share at your party this year, and in years to come.
Get Crafty
No need to wait until the official day to set-up the decorations. Below you will find a list of easy and entertaining ways to craft your way into the special day and enjoy the décor for days to come.
Here are some quick links to get you started:
AOL/PureWow – 20 Fun and Easy St. Patricks Day Crafts for Kids
Felt Magnet – 39 Outstanding St. Patrick's Day Crafts
Country Living – 34 St. Patrick's Day Crafts to Make with Your Family
Good Housekeeping – 41Easy St. Patrick's Day Crafts to Make with You Wee One
And here's one more option that can bring revenue into our apartment in El Paso:
The Mommyhood Club – 20 St. Patrick's Day Crafts to Make … and sell!
Start the Party!
At Cantera Apartments in El Paso, we always encourage our community to gather together to celebrate all that is good in life. If you have always wanted to get to know your neighbors better, maybe now is the time to throw a "Dine Around!"
Connect with your friends and decide which group wants to host what course of the meal. And then share this list of recipe ideas with the appropriate group.
Perfect St. Patrick's Day Appetizers
Guinness Beer Cheese Dip
Reuben Topped Irish Nachos
Green Eggs and Ham Deviled Eggs
Colcannon Puffs
Shamrock Vege Skewers
Green Popcorn
Irish Soda Bread Crostini
Irish Cheddar Jalapeno Bacon Potato Skins
And then on to dinner … courtesy of my favorite spot for recipes: The Spruce Eats
Smashed Brussel Sprouts
Roasted Radishes
Easy Traditional Irish Champ
Smoked Corn Beef
Instant Pot Corned Beef & Cabbage
Slow Cooker Irish Lamb Stew
Beef and Guinness Pie
Delicious Dublin Coddle
Corned Beef Shepherd's Pie
Don't Forget Dessert!
Guinness Stout Chocolate Brownies
Irish Bread and Butter Pudding
And finally, our favorite
Guinness Chocolate Cupcakes with Bailey's Cream Frosting!