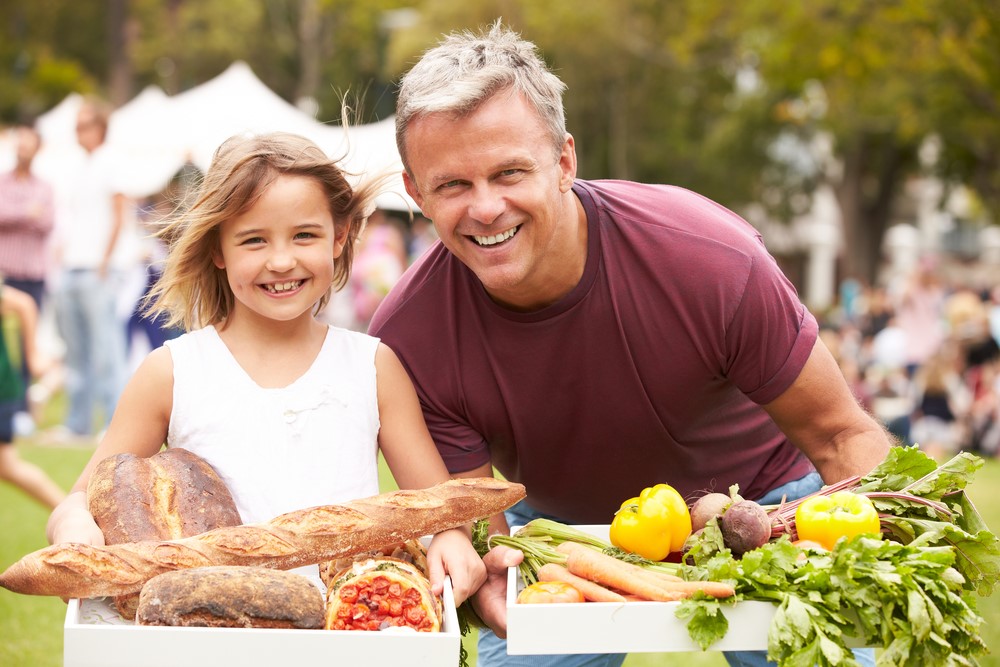 Ahh, summertime!
We just love this time of the year when farmers from near and far venture into our city and outlying communities to share their sensational selection of food, crafts, and so much more. In addition to the sampling of delicious home-raised and home-made goods, we enjoy the camaraderie that comes with this all-American tradition.

When we asked our staff at Cantera apartments in El Paso which Farmer's Market was their favorite, we ended up with a complete list of Farmers Markets that are popping up all over El Paso County.

In-between your time at the pool or fitness center at Cantera, we encourage you to get out and shop local for some of the freshest food of the summer.
Upper Valley Artist and Farmer's Market
First two Sundays of the month at Mesa Plaza / 10am-2pm
7930 N. Mesa, El Paso, TX 79932
Last two Sundays of the month at The Substation / 10am-2pm
145 E. Sunset, El Paso, TX 79922
Touting "El Paso's best vendors with quality handmade items and goods," the Upper Valley Artist and Farmer's Market is THE place to be seen on Sundays in El Paso.

We always do our best to support local businesses and these Farmer's Markets are no exception. From food for our tables to gifts for family and friends, we find just what we were looking for – and things we weren't – every Sunday all summer long.

Be sure to check out their website at Uppervalleymarket.com as they post the weekly vendors on a consistent basis.

​ To get you started on your list ahead of time, here the highlights of some of the vendors that await you and yours this summer:
3D Hero Creations
Bekky's Collection
Blue Tide Organics
Corral Woodworks
Cultura Candle Co.
Dac Artesanal
Elia's Natural Products
Gordo's Eatery
Honeybun Scrunchies
Lily Pad
Made For You
MB Coffee Group
Mexican Delicious
Patriot Pecans
Plan It Your Way
That Pottery Place
The Cookie Studio
Weirdo Beardo jerky
Zane Black Wood Shop
1 Ardovino Drive
Sunland Park
8:00 am – 12:00 PM
575-589-0653
For 20 years, Ardovino's Desert Crossing has been offering some of the region's finest selection of food and artistry. As their website notes:
… Ardovino's Desert Crossing has provided ultra-fresh produce, honey, and other fresh, small-batch foodstuffs which are the hallmark (and benchmark) of the best farmers markets. Hig- quality farmers markets see themselves not just as a place for farmers to showcase the stunning fruits of their labor and consumers to get the best products, but as a venue for producers and consumers of food to come together, forge relationships, and exchange information. Artists and like-minded vendors are also part of our community.
In addition to their Farmer's Market, our residents at Cantera Apartment in El Paso take advantage of their educational programs that include cooking demos, food literacy programs, and gardening tips. And our children always look forward to their 'kid-friend' activities that have become a mainstay of our weekend plans.
Farmer's and Crafts Market of Las Cruces
Downtown Las Cruces
Wednesday and Saturday
8:30 am – 1:00 pm
(575) 201-3853
"Number One Large Farmers Market in the Nation" in America's is worth the 40-minute drive north where you can enjoy a full day exploring SEVEN blocks of food, entertainment, crafts, and much more.
Since 2011, the market has expanded to include more than 300 VENDORS! Some of our favorite choices to take home always include local pecans, fresh honey, and cup of Joe from Coffee and more.
The Farmer's and Craft Market of Las Cruces has a long history that includes transition over the years from what started as a small farmers market with a few goods to what is now a professionally run non-profit organization. With that said, we encourage you to make plans this summer to go support all the time, talent, and treasure the locals in Las Cruces are providing to keep this treasured event alive and well.
For a complete list of vendors, visit their website: farmersandcraftsmarketoflascruces.com